MG James H. Wilson
Camp #1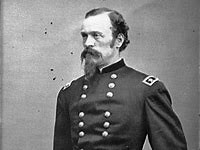 The Wilson Camp #1 covers the lower central Alabama. The Camp meets on a monthly basis in Prattville.
On 12 March 1997, Brother Al Howey, a member of the Lincoln-Cushing Camp No. 2 in Washington D.C, contacted the SUVCW's National Camp & Department Organizer, Mr. Richard Greene, regarding the possibility of starting a new camp in Montgomery, Alabama. As part of his motivation to start a camp in Alabama, Brother Howey described how an historical marker commemorating Union Major General James H. Wilson and his 1865 campaign through Alabama had been moved in 1996 from its initial site near the Alabama state capitol because local Sons of Confederate Veterans camps objected to it and convinced state officials to move it to Maxwell Air Force Base, away from the public eye. Brother Howey also announced his intention to conduct a Memorial Day event for Union veterans buried in a local Montgomery cemetery. He did so, with a number of what would become founding members of the camp, along with local television coverage.
On 29 June 1997, Brother Al Howey hosted a camp organizing meeting at his residence for prospective members interested in starting a new SUVCW camp in the Montgomery, Alabama area. At the meeting, the members voted to adopt the name of Major General James H. Wilson, the famous Union general. The members also decided to apply for a camp charter in the Department of Tennessee, as there was no other SUVCW camps in Alabama. It was approved and the official activation of the Major General James H. Wilson Camp No. 1 was held at the Millbrook Masonic Lodge on 17 January 1998. This marked the establishment of the first Sons of Union Veterans of the Civil War camp in the state of Alabama.
Since then the annual Memorial Day ceremonies have been conducted every May 30th over the graves of Union veterans buried in Alabama, historical markers have been restored `and cleaning and preserving Grand Army of the Republic monuments. In 1998, at the National Encampment, the camp was bestowed the Marshall A. Hope Author Award for having the best newsletter in the entire SUVCW national organization. At the 120th National Encampment of the SUVCW, on 11 August 2001, the Major General James H. Wilson Camp #1 was awarded the Abraham Lincoln Award as the most outstanding camp in the order. At the annual Department of Tennessee encampment in January 2006, the Camp was recognized as the Best Camp Website for 2005 and Best Camp Scrapbook for 2005.
Since that time the Wilson Camp has been busy assisting in the creation of other camps and supporting the creation, as Brother Al Howey had hoped, a Department of Alabama, so that the Union would have a voice in the South.