ADM David G. Farragut
Camp #5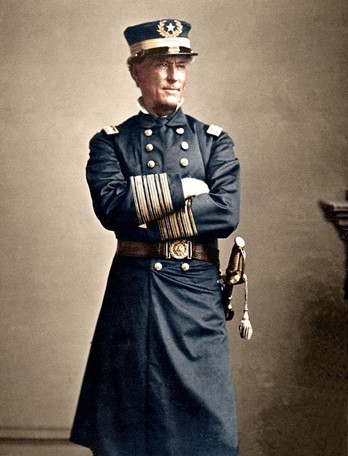 On July 10th, the first official meeting of the newly formed Admiral Farragut Camp No. 5 will commence at Spanish Fort, AL. Opening with 12 roster members, the camp will be the fifth SUVCW unit in the Dept. of Alabama Representing the greater Mobile, Alabama and surrounding Gulf Coast community, the Farragut Camp is named in honor of Union Admiral David Glasgow Farragut.
As Flag Officer during the naval battle of Mobile Bay in August of 1864, Rear Admiral Farragut is best known for his famous quote "Damn the torpedoes! Four bells. Captain Drayton, go ahead! Jouett, full speed!". This particular quote is often debated by naval historians as ordering a brash and overly dangerous maneuver which could have cost the Union a victory. However, there is no debating his decision to rush the Confederate naval forces lead by Admiral Franklin Buchannan was decisive in defeating the enemy controlling Mobile Bay, and finalizing the full naval blockade of Confederate ports under the Anaconda Plan.
Plans are underway for the camp to participate in a number of community activities over the coming year.